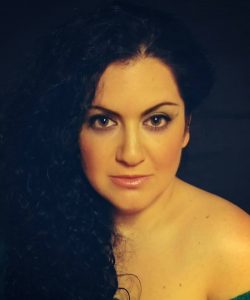 After finishing her studies on Ephemeral Architecture in Jerez de la Frontera, the Spanish soprano Máriam Guerra, went to Madrid to study Singing in the Escuela Superior de Canto de Madrid, where she graduated with the highest marks.
She has been awarded in several singing competitions such as "III Certamen Nacional de Lied "Fidela Campiña", "Concurso internacional "La Brújula del Canto", "Concurso OMEGA" Firenze (Italy), "Premio Camerata Sant Cugat de Canto 2017" and "Premio de la Fundación Clarós".
She has received Master Classes from extraordinay professionals
Natalie Dessay, Montserrat Caballé, Ana Luisa Chova, Ainhoa Garmendia, Roberto Scandiuzzi, Ettore Papadia, Bruno de Simone, Christoph Ritter, Lamara Chkonia, Emelina López, Linus Lerner, Francisco Ortiz and the masters Francesca Roig and Manuel Brugueras with whom she continues perfectioning her technic nowadays.
She has performed characters such as "
Königin der Nacht

" ("Die Zauberflöte" – Mozart) at Ateneo Concert Hall, "

Madame Herz

" ("Der Schauspieldirektor" operetta – Mozart) at Teatro de la Escuela Superior de Canto de Madrid, "

Lucy

" ("The Telephone" – Menotti) with the great Constantino Juri as stage director at the Teatro Principal, Zamora, "

La Novizia

" ("Suor Angelica" – Puccini) at Teatro Villamarta, Jerez de la Frontera, "

Frasquita

" ("Carmen" – Bizet) in a nacional tour, counting on "Ruse State Opera" and Ruse Philarmonic Orchestra", conducted by Nayden Todorov in theatres such as Teatro Romea, (Murcia), Teatro Pedro Muñoz Seca (Puerto de Santa María), Auditorio de Zaragoza, Teatro Alkazar (Plasencia), Auditorio Municipal Maestro Padilla (Almería), Teatro Capitol (Cieza) and Palacio de Congresos de Granada, among others. She won a contest in Italy to sing "

Berta

" in the production of "Il Barbiere di Siviglia" (Rossini) that was performed during 2015 at the main theatres – Teatro Verdi (Pisa), Teatro Coccia (Novara), Teatro Goldoni (Livorno) and Teatro dil Giglio (Lucca) with Nicola Paszkowski as music director and Alessio Pizzech as stage director. She has performed "

Frasquita

" (Carmen – Bizet) at the Opera Chengdu Theatre (China), with Michael Köhler as music director.
She has played as Soprano in "

Stabat Mater

" (Luigi Boccherini), "

Stabat Mater

" (Pergolesi) and "

Carmina Burana

" (Carl Orff) at Teatro Mira (Madrid), Teatro Bergidum (León) and at the Palacio de Congresos (Palma de Mallorca) with Felipe Aguirre as music director.
She has also performed "

Eumene

" in the barroc zarzuela "Vendado es amor, no es ciego" (José de Nebra) at theatres such as ESCM (Escuela Superior de Canto de Madrid).